Warren Buffett is known to be one of the greatest investors in the world.
He's made his billions in the stock market buying great American businesses such as Coca Cola, McDonald's, and Wells Fargo (many of which have now expanded globally)… and holding them for the long term.
But…
…Have you ever wondered what he would likely buy in our local stock market if he were a Singaporean?
Let's find out!
The Methodology
There's no secret behind how Warren Buffett picks his companies.
In Berkshire Hathaway's 1994 annual letter, Warren Buffett wrote:
"…We believe that our formula – the purchase at sensible prices of businesses that have good underlying economics and are run by honest and able people – is certain to produce reasonable success."
Doesn't sound like much of a secret, does it?
But Buffett used this formula to great success – beating out the S&P 500 index and most fund managers.
As Berkshire grew, Buffett had to add certain other criteria to the formula because his portfolio was getting too large and small companies (even if they're doing exceptionally well) would not make much difference to growing Buffett's returns.
Warren Buffett published his new acquisition criteria in the 1995 annual report and it has been a feature every year since then.
I have made them concise into these 6 points below for easier reading:
Companies in the $5-20 billion range – the larger the better
Simple businesses
Good management in place
Demonstrated consistent earning power
Good returns on equity
Little or no debt
To use these criteria in our Singapore context, we need to make one slight adjustment. Because our stock market is way smaller than that of the US, we cannot use criteria number 1 wholesale. This would give us only less than 10 stocks to pick from!
We note that companies in the $5-20 billion range represent mid-cap stocks in the US. Thus, if we translate this into our smaller local stock market, we would be looking at stocks above $500 million in market value.
At Dr Wealth, we like to do things quantitatively on the first-go to prevent our investor biases from coloring our judgement on certain stocks. Thus, the criteria to be used on our screener would therefore look like this:
Market Capitalization of at least $500m
ROE more than 15%
Debt-to-Equity ratio less than 1
The list came out to be around 16 stocks. But we aren't done yet!
We then looked at the other qualitative factors, and asked ourselves if those were being met… and voila!
Here's our list of 5 businesses that we think Warren Buffett would love… if he were a Singaporean.
1. Sheng Siong (SGX: OV8)
Simple Business: Yes. Sheng Siong should be a familiar name with many households. It is one of the largest supermarket chains in Singapore, located in 54 stores primarily in the heartlands. Its supermarkets offer a wide variety of products from frozen and fresh produce to toiletries and essential household items.
Good Management: Yes. Sheng Siong has had the privilege of having founding members of the business still at the helm. This includes Mr. Lim Hock Chee (who is the CEO), Mr. Lim Hock Eng (the Executive Chairman), and Mr. Lim Hock Leng (Managing Director). Over the years, they have increased gross margins by streamlining operations and reducing input costs – and delivered consistently high returns on equity for shareholders.
Its core value proposition is having quality products sold at competitive prices. One way Sheng Siong does this superbly is by scouting for lower rents from less-popular neighborhood spots, and pass on some of the cost-savings to its customers.
Consistent Earnings Power: Yes. Take a look at the Earnings Per Share from 2014:
Here are the other quantitative criteria that passed:
| | |
| --- | --- |
| Market Capitalization | SGD 1,638,855,300 |
| Return on Equity | 24.01% |
| Debt-to-Equity | 14.82% |
2. SBS Transit Ltd (SGX:S61)
Simple Business: Yes. Another familiar name here! Many of us use this every day – either taking the trains operated by SBS (which include the North-East Line, Downtown Line, Sengkang LRT and Punggol LRT) or its buses. The revenue model is simple – it primarily charges passengers to use its transportation services, calculated based on the distance they travel. This is a "boring" business with respectable margins – true to Buffett's style.
Good Management: Yes. The current Chairman is Mr. Lim Jit Poh. He's a familiar face if you look at annual reports often enough! He concurrently sits on the Board of ComfortDelGro Corp, VICOM, NTUC, and CapitaLand Ltd Group. Each of these companies has experienced strong growth under his Chairmanship – and SBS should be no different.
The CEO, Mr. Yang Ban Seng, is also the concurrent CEO at ComfortDelGro and Deputy Chairman at VICOM. The multiple affiliations indicate that SBS cannot be seen as a single entity, and the ComfortDelGro-SBS-VICOM triad contains implicit operational synergies that benefit SBS greatly.
These benefits include increasing operational cash flows, growing gross margins and increased operational efficiencies as evident from increasing Returns on Assets (ROA). It's management of cash is also superb – having a consistently negative cash conversion cycle while using its cash to pare down debt in recent years.
Consistent Earnings Power: Yes. Take a look at the Earnings Per Share from 2014:
Here are the other quantitative criteria that passed:
| | |
| --- | --- |
| Market Capitalization | SGD 1,203,624,300 |
| Return on Equity | 17.19% |
| Debt-to-Equity | 35.41% |
3. Riverstone Holdings Limited (SGX:AP4)
Simple Business: Yes. Okay, we're now entering uncharted territory. Not many people would have heard of Riverstone (unless you're working in the healthcare or electronics sector).
The company is a leader in manufacturing cleanroom and medical gloves. Cleanroom gloves are used in HDD and semiconductor manufacturers to keep particles and static away so that electronic components which are highly-sensitive can be protected from contamination.
Riverstone has been producing these gloves for over 28 years and is recognized by their "RS" branding across 4 countries. They have also built up long-standing relationships with key customers and well-understood their needs to deliver customized solutions for them.
Good Management: Yes. Mr. Wong Teek Son is the Executive Chairman and founding CEO of Riverstone. He has a 50.75% deemed shareholding in the company – which indicates "skin in the game" that he will work in the best interests of the company and shareholders.
We can see this playing out as management has grown operating cash flows over the years, and has not taken on any long-term debt until FY2017. The debt was necessary as Riverstone had acquired a piece of land with a built-up factory in Malaysia to be used to expand the cleanroom glove production capacity. Even then, it has been very conservatively financed.
Consistent Earnings Power: Yes. Take a look at the Earnings Per Share from 2014:

Here are the other quantitative criteria that passed:
| | |
| --- | --- |
| Market Capitalization | SGD 674,386,500 |
| Return on Equity | 18.28% |
| Debt-to-Equity | 2.37% |
4. Venture Corporation Limited (SGX:V03)
Simple Business: Not Quite. To sum up Venture's operations in a few words is rather difficult. Essentially, Venture is a market leader in manufacturing advanced and high-tech components and products. It operates in two official domains: Advanced Manufacturing & Design Solutions (AMDS) and Technology Products & Design Solutions (TPS).
Venture collaborates with its clients to design the equipment they want to build – and then goes about manufacturing them according to the client's specifications. These equipment might require extreme precision (such as a medical instrument) or high-tech functions that require substantial research and development.
Such high barriers to entry, intimate domain expertise and close relationships with strategic clients are what would likely interest Mr. Buffett.
Good Management: Yes. The Chairman and CEO is Mr. Wong Ngit Liong. He's the man that brought Venture from a generic manufacturing firm into a technology-focused solutions leader today. Looking at the numbers, we also see Mr. Wong has kept debt consistently low the last couple of years, increased gross margins by focusing on value-added manufacturing, and mitigated the risks of lumpy revenues by having a good cash buffer.
Consistent Earnings Power: Yes. Take a look at the Earnings Per Share from 2014:
Here are the other quantitative criteria that passed:
| | |
| --- | --- |
| Market Capitalization | SGD 4,337,092,900 |
| Return on Equity | 16.10% |
| Debt-to-Equity | 0.72% |
5. Singapore Exchange Ltd. (SGX:S68)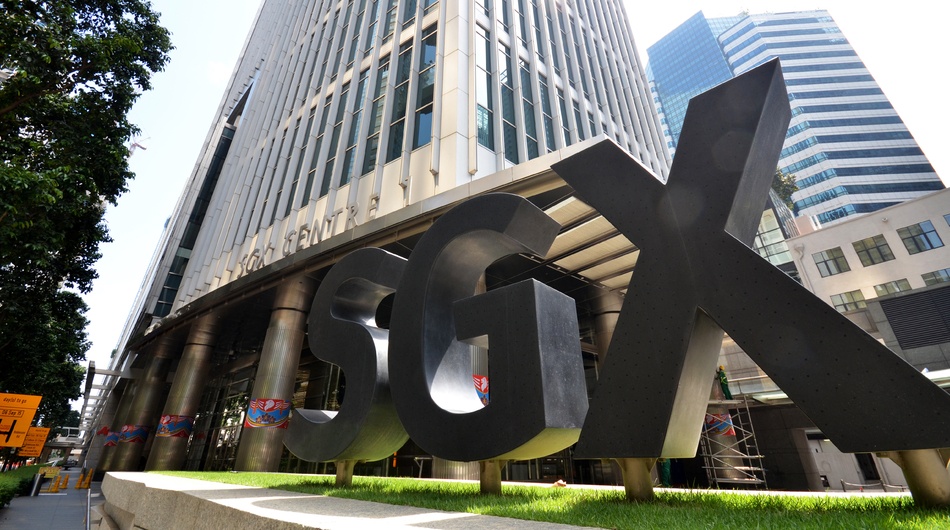 Simple Business: Yes. Buffett would have absolutely loved this company. The Singapore Exchange (SGX) is the only stock exchange in Singapore – which makes it a monopoly. This means that SGX can increase prices on its services like listings and market data – and companies who wish to stay listed on SGX will have no choice but to pay.
The problem with SGX is that it is not a true monopoly. Barring geographical boundaries, it faces competition from regional finance hubs – the main competitor being the Hong Kong Stock Exchange (HKEx). It will be interesting to see how MAS will respond to the threats of these other exchanges in the near future.
Good Management: Yes. The CEO is Mr. Loh Boon Chye, who has had 30 years in the financial industry and had experience developing the capital markets in Southeast Asia. Evidently, we can also see this in SGX's resilient balance sheet – the company has not charged any debts and operating cash flows have been consistently positive in the last 5 years.
Consistent Earnings Power: Yes. Take a look at the Earnings Per Share from 2014:
Here are the other quantitative criteria that passed:
| | |
| --- | --- |
| Market Capitalization | SGD 7,884,684,100 |
| Return on Equity | 37.20% |
| Debt-to-Equity | 0% |
Conclusion
So there you have it.
If Warren Buffett were a Singaporean, he would very likely put these stocks in his portfolio!
Of course, the main caveat here is that he would've bought these stocks at a "sensible price". These stocks would also have been assumed to grow in the future, at a rate consistent with their track record.
Most of these stocks are overvalued at the moment – and we think that Uncle Warren would be keen to collect these stocks when prices fall way below their fair values in a market or industry sell-off.
Warren Buffett has a framework that guides his investments. This in part contributes to his success as an investor. If you want to gain financial success and independence like Warren Buffett using stocks, you need a framework too.
At Dr Wealth, we've worked on creating a robust, evidence-based framework that has delivered 10-15% returns per year historically.
If you wish to gain financial independence from stock investing, we organize an intro class every few weeks. Click here to find out when's the next intro-course!